Adventure raid

Leave the hassles of the modern world behind you with its bustle and stress and come and find peace of mind in Ardèche.
A final check to ensure that your container has everything you will require by way of equipment – sleeping bag, tent, change of clothing, some last-minute words of advice, the canoe is loaded and the adventure can begin…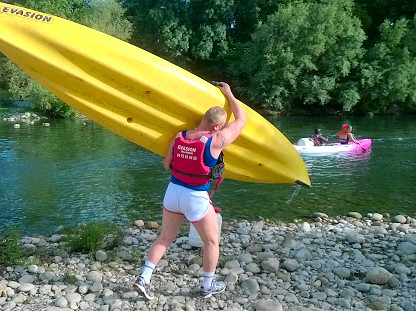 The adventure raid over two or three days
As you make your way down river you become true adventurers.
You will rediscover calm, peace and serenity, far from the maddening pace of modern civilisation, in the heart of the most beautiful of settings.
Take all your time and look around you : as you approach, the kingfishers with their blue necks take their flight, the beaver dives under water, slapping the surface with its wide bat-like tail, whilst, way up in the sky, the Bonelli Eagle circles, ready to dive on its prey…
Listen as nature vibrates all around you : a thousand small noises and aromas seem to assail you from every direction.
Navigate at your own rhythm : stop when you feel so enclined as you pass a sun-kissed cove, drink cool and soothing water as it trickles from a spring, take a nap in the shade of a green oak!
You will find yourself turning into a modern day Robinson Crusoe: after your 'torrid' day, a bivouac under the stars will be more than welcome.

Enjoy a meal amongst friends or as a couple, under the open skies or ensconced in a snug tent.
In the morning, you have a lot to be ready for! A bit of paddling, some white waters for fun, a pause for a snack, a swim, a nap and then a bit more paddling.
You will then begin to see, ahead of you, the landing jetty, the bus awaiting and the bustle you had almost forgotten existed.
There is no point trying to paddle backwards though – the cruel current will not let you escape. The only solution is to have a new attempt – you can be assured that it will be just as enjoyable even if different, as no two runs are ever the same.
We will be waiting and look forward to greeting you again amongst us!
Operation of bivouac areas
A night in the heart in the natural reserve of the Gorges de l'Ardèche
Two bivouac areas, Gaud and Gournier, are found in the natural reserve of the Ardeche Gorge and make your toilet, shower, barbecue, barbecue grills and charcoal.
A caretaker is on site at all times.
Buying tickets in advance camp is necessary and required. To provide a quality stay within the nature reserve gorges of Ardeche, attendance is controlled and limited.
So there is a book these nights as soon as possible and make payment is by credit card online or by check, then tell us the file number you've assigned so that we get the tickets for you, these tickets will be delivered to the office Canoe Escape on the day of your departure.
Equipment include:
Néoprènes shoes sold in our stores or baskets.
Swimsuit, shorts, T shirt, sunscreen.
Cap, bob, sunglasses, goggles attached-Cut vent (depending on the weather) sold in our stores.
Tent, down bag.
Food, beverages for all meals because there was no possible refueling along the way.
Preparation and shipment:
Private parking is available to you during your raid 2 or 3 days.
Two containers are provided by canoe used to pack all the equipment necessary for the descent.
A topographical map indicating the remarkable time and liaison point to point is surrender.
Safety recommendations and navigation are issued, as well as life jackets and paddles.
Transportation to the pier, loading of vessels, developed and final departure.
The purchase tickets giving access to a night on the bivouac area previously purchased from the central reservation.
Conduct your raid 2 or 3 days:
The 1st day
8:30 departure from our base Evasion Canoe where your vehicles are parked.
Downhill leaving Voguë Ruoms up. You sleep in Ruoms the municipal campsite next to our database or in the campsite of your choice.
The 2nd day
Start at your convenience to our base camp reserved, preferably Gaud, where you spend your second night.
The 3rd day
Start at your convenience of the bivouac to arrive at 17h00 on the beach at Sauze where our bus waits for a return forecast to be around for Ruoms 18.00.
Rental canoes and kayaks to Ruoms
Descent of the Ardèche river near Vallon-Pont-d'Arc